Bikes for Kids Assembly Party- Nov. 6, 2016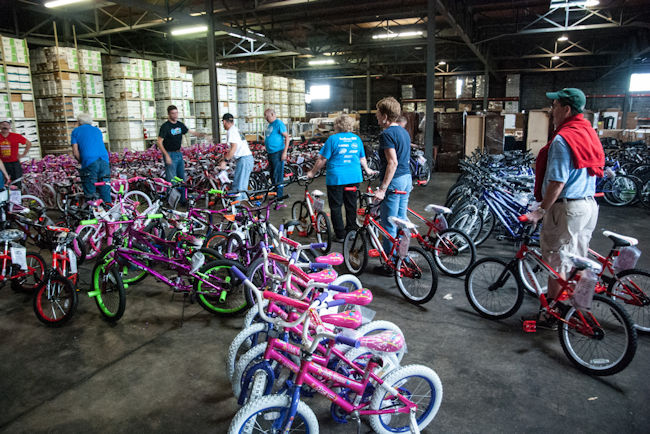 Warehouse:  EnTrust Records Management
Address:  2600 Hardy St, Richmond, VA  23220
Start time:  9 AM to whenever all bikes built and passed inspection
Food, drinks:  There will hot coffee and few snacks in the morning; lunch will be pizza and bottled water/sodas.  Please bring $5, cash or check made payable to the RABA Foundation, to cover the cost of lunch.
Wear:  Layered, warm clothing and comfortable/supportive shoes.  While we are inside a large storage warehouse, there is NO heat and we are standing on concrete floors.  Be prepared for possible cold temperatures if outside weather is cold.
We have had incredible turnout the past three years and hope for repeat this year as many hands make light work and fast completion!  We have finished the bike build before lunch and completed inspection by 1 pm.
Skills?  No bike mechanic skills are required, but if you have tools like multi-sized Allen wrenches, flat and Phillips head screw drivers, bike stand, work gloves, etc. please bring them so you can be partnered with others who don't have any of these things.  Positive, team-oriented, can-do and attention to detail spirits are greatly desired!  All volunteers will be invited to the club volunteer appreciation social on 11/14/16.
Special ask:  3-4 air compressors wanted to pump tires on over 200 bikes.  If you have one, please bring it!
Please RSVP by Saturday, Nov 5, at this link:  http://www.viethconsulting.com/members/evr/reg_event.php?orgcode=RABA&evid=15379771
**If you receive a confirmation email = successful registration**
Questions about the assembly effort?  Contact Andrew Mann, rabamann@aol.com
Questions about registration?  Contact Kim Moore, luvs2cycle@yahoo.com