Here's Something You Don't Normally See on a RABA Ride…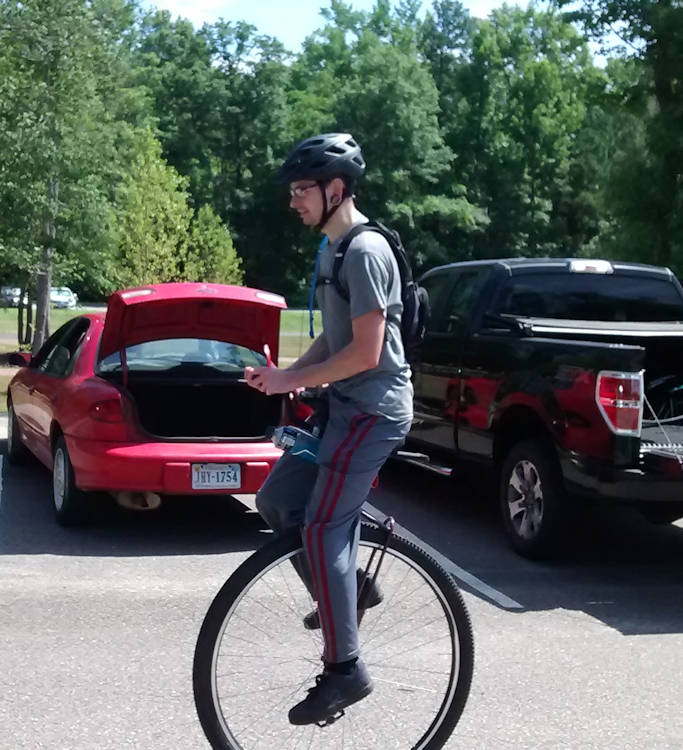 Cyclists who are interested in saving an ounce here or there on their equipment might take a look at Max. He's dispensing with an entire wheel, and chain, and handlebars, and…. Ahhh, minimalism.
Seriously, though, Max joined Wes Surina's regular leisurely paced ride on Sunday morning (June 19). This ride starts at the Four Mile Creek parking lot in Varina, just beyond I-295 on Route 5. It headst 10 miles east along the Capital Trail and returns.
Seeing Max and his unicycle reminds me of an experience I had on the W&OD Trail in Northern Virginia a number of years ago. I rode along it one beautiful spring morning and saw the most amazing variety of cyclists, walkers, joggers and horseback riders. There were tandems, trikes, recumbents, recumbent tandems, etc. of all shapes and sizes. Don't remember seeing a unicycle, though…
As mentioned above, Wes does this ride every Sunday morning at 8:30 am. It's a nice, leisurely way to start the day and beat the heat. And maybe Max and his unicycle will be there, too.