| | |
| --- | --- |
| RABA News and Events | |
| | |
| --- | --- |
| Daily Rides for September 28, 2016 | |
| | |
| --- | --- |
| Wednesday | Retiree's Midweek Ride and Lunch |
| | | | | | |
| --- | --- | --- | --- | --- | --- |
| Pace | Time | Miles | Terrain | Stops | Leader |
| B | 9 am | 25 to 40 | Varies | Varies | Barry Pullen, 561-3950 |
| C | 9 am | 25 to 40 | Varies | Varies | Bud Vye, 262-9544 |
Description: This ride meets at a different location each week for a ride of 25 to 40 miles, followed by lunch. All riders are invited. Each week"s location will be announced to the RABA E-mail lists. If you are not on the list, please call Bud Vye, 262-9544 or Barry Pullen, 561-3950.

| | |
| --- | --- |
| Wednesday (Note: Start Time change and the last date of ride is Sept. 14) | Chesterfield County Ride |
| | | | | | |
| --- | --- | --- | --- | --- | --- |
| Pace | Time | Miles | Terrain | Stops | Leader |
| A | 5:30 pm | 25 | 3 | None | See below |
| B+ | 5:30 pm | 25 | 3 | None | Al & Lois Farrell 744-9306 lojafarrell@verizon.net |
| B | 5:30 pm | 25 | 3 | None | Jesse Archer, 739-6952, jcarc91@gmail.com |
Description: Join us for this ride on some smooth, scenic, and generally little traveled back roads in Chesterfield County. As of now we have a B+ pace ride leader. There is also nearly always a group of faster (A/A+) riders to join if you are so inclined, but currently no designated A pace leader. We are looking for volunteers to lead faster or slower paces (please contact us if interested!). Maps will be available to those wishing to ride at their own pace. Shorter options are available. We generally do not ride if there is a high probability of rain so check your email or look out the window if the weather is questionable.

Directions: The ride leaves from the Bethia Methodist Church at the corner of Winterpock and Beach. Take Hull Street 2.2 miles west of 288. Turn left at the light just past Lowes onto Winterpock. The church is 2.8 miles on the right just before the Stop sign at Beach. Please park in the front parking lot away from the church. Be sure to allow time for traffic on Hull Street on your way to the ride.
| | |
| --- | --- |
| Wednesday | Ashland Dinner Club |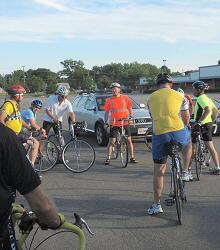 Description and Directions: This nighttime ride leaves from the Laurel Park Shopping Center at the corner of Woodman and Hungary Roads. We ride to Ashland and have dinner before returning to Laurel Park.

The group will ride at a C or faster pace depending on the pleasure of the group.

Note: The ADC is a nighttime ride. It is not recommended for novice riders! You must be comfortable with group riding and be confident with your bike handling skills. Adequate lights, blinkies and reflective clothing are absolutely mandatory. Two rear blinkies and a primary plus spare headlight is strongly recommended.

Remember to bring:

at least one headlight which provides enough light to illuminate the road in front of you. A second, spare light with charged batteries is strongly recommended.
at least one bright-red blinkie for the rear of your bike. (Two are recommended.)
fully charged and/ or spare batteries for all lights.
lots of reflective clothing, vests, legbands, and/or armbands.
CHECK ALL LIGHTS AND BATTERIES BEFORE YOU GET TO LAUREL PARK. CALL THE RIDE LEADER IF YOU HAVE ANY QUESTIONS.