| | |
| --- | --- |
| Daily Rides for September 20, 2014 | |
| | |
| --- | --- |
| Saturday | The Ashland Breakfast Club (ABC) |
| | | | | | |
| --- | --- | --- | --- | --- | --- |
| Pace | Time | Miles | Terrain | Stops | Leader |
| Varies | 8:00 to 8:30 am | 20 to 50+ | 5 | Some | See list below |
Leaders:
Sept. 6 Jim Venning
Sept. 13 Mark Bierly
Sept. 20 Ann Kaplan
Sept. 27 Chuck Jajesnica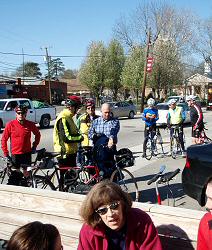 Description and Directions: This ride leaves from the Laurel Park Shopping Center at the corner of Woodman and Hungary Roads. The basic ride is ten almost flat miles to Ashland where riders stop at Hardees or Ashland Coffee & Tea for breakfast or hot or cold drinks before retracing the route back to Laurel Park. There are a number of variations to this ride with many riders choosing a 30 mile route to the Coffee Shop while others prefer the basic route where they then meet up with other riders interested in doing additional miles before returning to the starting point. Riders may join the ride leader"s group or form a group of their own based on preferred pace and distance.

Unlike most RABA rides, this ride does not have a group start. Riders may sign the ride sheet and depart anytime. If you are new to this ride, please introduce yourself to the ride leader and he or she will assist you in finding other club members who ride your pace. Maps and cue sheets are available for those wishing to ride at their own pace. Riders arriving after the ride leader has left will find the sign-up sheet and route maps on the ride leader"s car.
| | |
| --- | --- |
| September 20 (Saturday) | Riding Through Dogtown |
| | | | | | |
| --- | --- | --- | --- | --- | --- |
| Pace | Time | Miles | Terrain | Stops | Leader |
| A | 8 am | 62 miles | 4 | 1 | Mike & Kim Moore 358-0935 |
Description: Join the Moores for their summer season favorite of riding various parts of the East End and then eating at Camden's Dogtown Market Cafe after the ride. Other paces are welcome to lead the 62 mile or shorter distances like 20-31-40. If interested, please contact the Moores.

Directions: The address is 201 West 7th St (corner of Porter and 7th Streets), Richmond, VA 23224. The restaurant is located south of the James River, in the Old Manchester District, on the first floor of the Corrugated Box building. Free parking is available on the street or directly behind the restaurant. Cue sheets will be provided.
| | |
| --- | --- |
| Saturday | Centerville Saturday Ride - [Food Lion] |
| | | | | | |
| --- | --- | --- | --- | --- | --- |
| Pace | Time | Miles | Terrain | Stops | Leader |
| B/B+ | 9:00 am | 35-45 | 3 | Some | Robert Mullins, 338-2782 , rsm.mullins@gmail.com |
Description:Come out on Saturday mornings and enjoy a ride through the rolling, rural countryside of Goochland, Hanover, and Louisa counties. We ride a variety of routes in the 35 to 45 mile range at an honest B+ pace. We also usually have a few riders who ride a faster pace on their own. A reminder including the cue sheet for the week's ride is typically sent via the mailing list on Thursday or Friday.

Directions:The ride leaves from the parking lot of the Food Lion in the Broadview Shopping Center in Centerville. The Food Lion is about 8 or 9 miles west on Broad Street from the Parham Rd intersection. If you're coming via I64 take exit 173 and turn left. In less that a mile turn right on Broad St and then the shopping center will be a few hundred feet on the right. Click here to see the shopping center location in Google Maps.