| | |
| --- | --- |
| Daily Rides for October 30, 2014 | |
| | |
| --- | --- |
| Thursday | Unemployed Cyclists Ride |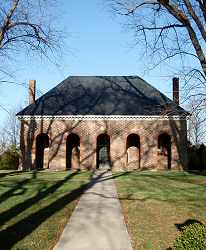 Description: This ride covers parts of central Hanover County and the surrounding areas, which offer a lot of beautiful countryside. Most routes include a few good hills. Some routes do not have a store stop, so bring plenty of water. Notwithstanding the name of the ride, everyone is invited to join us, whether employed or not.

Directions: The ride starts and finishes at the Hanover County Government Complex (often called the "Hanover Courthouse"). The Hanover County Government Complex (7497 County Complex Rd., Hanover, VA 23069) is on US Route 301 just south of the intersection of Routes 54 and 301. From I-295, take Exit 41 onto Route 301, travel north for approximately 10.5 miles and turn right onto County Complex Rd. From I-95, take Exit 92 (Rt. 54 East) towards Hanover. Travel approximately 5 miles to the intersection with Rt. 301. Turn right onto Rt. 301. Travel approximately one-half mile and turn left onto County Complex Rd.
| | |
| --- | --- |
| Thursday | West End Manakin Ride |
| | | | | | |
| --- | --- | --- | --- | --- | --- |
| Pace | Time | Miles | Terrain | Stops | Leader |
| B/B+ | See below | 28/30 | 3 | None | Mike Dieter, 804-314-6616; Godieter@aol.com, |
Start times:
Oct 2 and Oct 9: 5:15 pm
Oct. 16, Oct. 23, and Oct. 30: 5:00 pm
Description: Enjoy a ride with lots of rolling hills, a few climbs, and nice scenery in eastern Goochland and western Hanover. We will start with shorter options until daylight allows us to do the 29 and 30 mile options. The 30 mile option includes a mile climb on Patterson Avenue at the end of the ride, the 29 mile option avoids this climb. This is a great way to get your legs in shape quick! Remember your blinkie.

Directions: Meet at Dover Baptist Church, 635 Manakin Road, Manakin-Sabot, VA. Take Patterson Avenue (Route 6) west. Once you pass the traffic light at the intersection of Patterson/Lauderdale in western Henrico, continue west on Patterson approximately 4.6 miles. Turn right on Manakin Road (Route 621) which is just after the fire station. Go about 1/2 mile on Manakin Road to Dover Baptist Church which is on the right. The church has asked us to park on the right hand side of the parking lot, as far away from the church as possible
| | |
| --- | --- |
| Thursday | BDR (Before Dinner Ride) |
Start times:
Oct 2 and Oct 9: 5:15 pm
Oct. 16, Oct. 23, and Oct. 30: 5:00 pm
Description: This ride leaves from the Laurel Park Shopping Center at the corner of Woodman and Hungary Roads. The twenty mile route follows the ABC route which is almost flat to Ashland and back to Laurel Park Shopping Center. Longer routes have a few hills. Leaders will make sure that no one is dropped from their group, regrouping as often as needed. This ride is open to all cyclists. Due to the possibility of returning in low light, each rider should have a working headlight and a rear blinkie. After the ride join your fellow riders for dinner at Maria's or another local restaurant.

Directions: Laurel Park Shopping Center (9500 Woodman Rd, Richmond, VA 23228) at Hungary and Woodman Roads.
| | |
| --- | --- |
| Thursday | Crump Park Options |
Start times:
Oct 2 and Oct 9: 5:15 pm
Oct. 16, Oct. 23, and Oct. 30: 5:00 pm
Description: This evening ride features multiple distances beginning in Henrico county progressing through Ashland and western Hanover County. We have prepared cue sheets of 4 distances on roads familiar to all RABA riders. The shortest ride is 24 miles and basically flat. The longest is 38 miles and ascends 3 Sisters, Rocketts Mill, and Horseshoe. Each week the ride leaders will choose the distance for their group.

Download the cue sheet here.

Directions: To get to the start, please take Staples Mill Rd/Rt 33 West. Turn right onto Mountain Rd. Remain on Mountain Rd for approximately 1.3 miles - park entrance will be on the left. Look for bicyclists in the back lot, in the rear of the park.
| | |
| --- | --- |
| Thursday | East End Black Creek Ride |
Description: This Leader led evening ride features an A and B/B+ pace cruise through eastern Hanover and New Kent Counties. The 32 mile cue sheet is here. The 28 mile cue sheet is here.

Directions to Black Creek Baptist Church, 6289 McClellan Rd., Mechanicsville, VA 23111. : From I-64, take exit 197B (Highland Springs, Rte.156N) onto Airport Drive (Rte. 156N), continue through 2 lights, over Rte 295, bear right at Market Rd.(Rte. 630),continue and bear right again on Fox Hunter Lane at Black Creek Country Store. Next, turn left on McClellan Rd.(Rte. 628). The Church is about 2 miles on the left. Use parking lot on north side of the church.