| | |
| --- | --- |
| RABA News and Events | |
| | |
| --- | --- |
| Daily Rides for March 4, 2015 | |
| | |
| --- | --- |
| Wednesday | Retiree's Midweek Ride and Lunch |
| | | | | | |
| --- | --- | --- | --- | --- | --- |
| Pace | Time | Miles | Terrain | Stops | Leader |
| B | 10 am | 25 to 40 | Varies | Varies | Barry Pullen, 561-3950 |
| C | 10 am | 25 to 40 | Varies | Varies | Bud Vye, 262-9544 |
Description: This ride meets at a different location each week for a ride of 25 to 40 miles, followed by lunch. All riders are invited. Each week"s location will be announced to the RABA E-mail lists. If you are not on the list, please call Bud Vye, 262-9544 or Barry Pullen, 561-3950.

| | |
| --- | --- |
| Wednesday (Note: March 4 is last day of ride!) | Stratford Hills Ride |
Description: This ride begins at the Stratford Hills Shopping Center, located at the corner of Forest Hill Avenue and Hathaway. The route follows Bicycle Route 1 west along Riverside Drive, Cherokee, and Old Gun to Robius Road, a distance of nine miles. Make a U-turn and retrace the route for an 18 mile ride or follow the cues for an 14 mile loop through Salisbury and back to Old Gun for the return and a 32 mile ride. Download the cue sheet here at http://www.raba.org/map/Stratford-Hills-to-Salisbury-32.pdf.
| | |
| --- | --- |
| Wednesday | Ashland Dinner Club |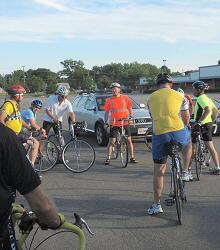 Description and Directions: This nighttime ride leaves from the Laurel Park Shopping Center at the corner of Woodman and Hungary Roads. We ride to Ashland and have dinner before returning to Laurel Park.

The group will ride at a C or faster pace depending on the pleasure of the group.

Note: The ADC is a nighttime ride. It is not recommended for novice riders! You must be comfortable with group riding and be confident with your bike handling skills. Adequate lights, blinkies and reflective clothing are absolutely mandatory. Two rear blinkies and a primary plus spare headlight is strongly recommended.

Remember to bring:

at least one headlight which provides enough light to illuminate the road in front of you. A second, spare light with charged batteries is strongly recommended.
at least one bright-red blinkie for the rear of your bike. (Two are recommended.)
fully charged and/ or spare batteries for all lights.
lots of reflective clothing, vests, legbands, and/or armbands.
CHECK ALL LIGHTS AND BATTERIES BEFORE YOU GET TO LAUREL PARK. CALL THE RIDE LEADER IF YOU HAVE ANY QUESTIONS.