| | |
| --- | --- |
| Daily Rides for September 23, 2017 | |
| | |
| --- | --- |
| Saturday | The Ashland Breakfast Club (ABC) |
| | | | | | |
| --- | --- | --- | --- | --- | --- |
| Pace | Time | Miles | Terrain | Stops | Leader |
| Varies | 8:00 to 8:30 am (Apr to Oct) | 20 to 50+ | 5 | Some | Konrad Orta, 804-386-7120,konrad.orta@gmail.com |
Leaders:
July 1, TBD
July 8, TBD
July 15, TBD
July 22, TBD
July 29, TBD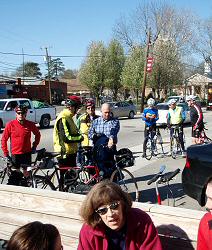 Description and Directions:The Ashland Breakfast Club (ABC) ride is one of the more popular RABA rides and is one of the best opportunities for riders new to group riding to experience this form of road cycling.

Most groups depart Laurel Park Shopping Center at the posted ride time. Riders may join the ride leader's groups or form a group of their own based on preferred pace and distance. Riders may also sign the ride sheet and depart anytime after the posted ride time. If you are new to this ride, please introduce yourself to the ride leader and he or she will assist you in finding other club members who ride your pace.

The basic ride is ten almost flat miles to Ashland where riders stop at Ashland Coffee & Tea for refreshments and socializing before retracing the route back to Laurel Park. There are a number of variations to this ride with many riders choosing longer routes at the descretion of the ride groups with distances of up to 35 to 40 miles for faster paces.

This ride leaves from the Laurel Park Shopping Center at the corner of Woodman and Hungary Roads, which is at the next traffic light north of the intersection of Parham and Woodman Roads.
| | |
| --- | --- |
| Saturday | Centerville Saturday Ride - [Food Lion] |
| | | | | | |
| --- | --- | --- | --- | --- | --- |
| Pace | Time | Miles | Terrain | Stops | Leader |
| B/B+ | 9 am | 35-45 | 3 | Some | Robert Mullins, 338-2782 , rsm.mullins@gmail.com |
Description:Come out on Saturday mornings and enjoy a ride through the rolling, rural countryside of Goochland, Hanover, and Louisa counties. We ride a variety of routes in the 35 to 45 mile range at an honest B+ pace. We also usually have a few riders who ride a faster pace on their own. A reminder including the cue sheet for the week's ride is typically sent via the mailing list on Thursday or Friday.

Directions:The ride leaves from the parking lot of the Food Lion in the Broadview Shopping Center in Centerville. The Food Lion is about 8 or 9 miles west on Broad Street from the Parham Rd intersection. If you're coming via I64 take exit 173 and turn left. In less that a mile turn right on Broad St and then the shopping center will be a few hundred feet on the right. Click here to see the shopping center location in Google Maps.
| | |
| --- | --- |
| Saturday | Molly's Women Beginner Ride |
Description: This is a beginner C paced ride in Chester. Great for women who are training for triathlons and learning to ride in a group setting or anyone who starting riding and wants to get better at it. We can also use help from experienced riders who want to support more women getting out there and enjoying a group ride.

Directions: The ride starts at The Bucket Trade, 13131 Rivers Bend Blvd, Chester, VA 23836